The first thing that strikes visitors arriving on Old Providence is the island's deep serenity. There are no cars and little noise except for the reggae playing at beach bars.
Unlike most of Colombia's tourist hotspots, there are no hawkers either; visitors are left to laze on the powdery white sands of Providence's beaches alone. Even the sea is still as a lake.
"We don't have a lot here. No big hotels, no museums, none of that," says Ferma Livingston in a thick Caribbean English as she emerges from her restaurant kitchen in Manzanillo Bay. "But what we do have is peace and tranquillity."
Providence's laid-back lifestyle and local customs have been preserved by the tiny island's isolation. Though it is part of Colombian territory (and known in Spanish as Providencia), the volcanic island sits 450 miles (724km) north of the mainland and some 260 (418km) miles off the coast of Nicaragua.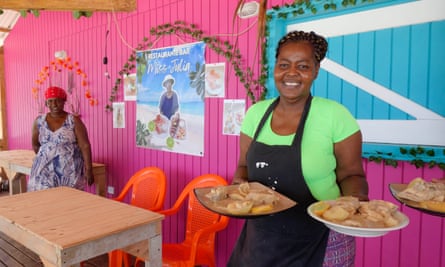 Local people, known as Raizales and descended from enslaved people brought from Jamaica, are closer culturally to their Caribbean cousins than to anywhere in South America due to the island's colonial history.
Residents prefer to speak creole or English rather than Spanish and to dance calypso instead of salsa.
Life is slow: people live largely off what they can pull out of the sea and everybody knows almost everyone.
Change is coming, however. Residents say as Old Providence opens up to tourism and becomes more connected to the outside world its unique culture is under threat.
"They've always thought this island is too good for black people, they wanna do away with us," says Livingston.
Providence has been coveted by the outside world ever since English Puritans first settled here in 1629. After the colony's collapse, pirates took the island as a base for ransacking Spanish ships. The treasures of the Welsh privateer Henry Morgan are rumoured to lie hidden somewhere on the island.
Since Providence and the larger, neighbouring island of San Andrés became part of Colombia in 1928, successive governments have tried to make the islands more Colombian, diluting their Raizal heritage.
Missionaries attempted to convert the island's fervent Baptist Protestantism into Catholicism, tuition in schools was changed from English to Spanish and governments encouraged mainlanders to migrate to the islands.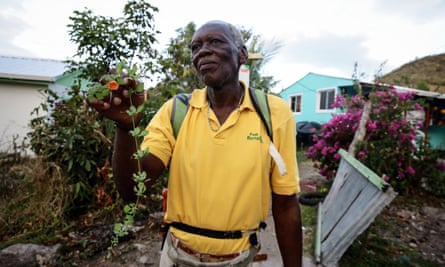 "They even changed all the names of the schools and hospitals to those of the conquistadores and such. We don't know any of these people, it's very sad," says Bernardo Bernard, a lofty 76-year-old tour guide who takes tourists on hikes up the island's tallest mountain, The Peak.
With few economic opportunities on Providence and the cost of living climbing, islanders increasingly look to the outside world to make a living.
"Not long ago you could live off 500,000 pesos [£99/$126] a month but now it's more like 5 million," says Larry, who used to spear fish for a living but now makes more money ferrying tourists around in a minivan. "It's tough to just live off fish."
At the height of the pandemic in 2020 Hurricane Iota devastated Providence, adding to economic pressures. Along with entire beaches – and nearly every building – the island's tourist trade was swept away and Colombia's national tourism agency is campaigning to get outsiders back on the island.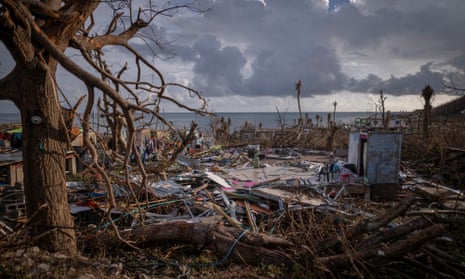 But locals fear that if mass tourism takes hold it could accelerate out of control.
Resorts have long sniffed around the island's undeveloped beaches and residents fear they could restrict access to public spaces, cause water shortages and pollute the seas – and eventually transform the island's communal way of life.
Fifty kilometres away, San Andrés serves as a warning.
After decades in which Providence's sister island was heavily promoted as a middle-class holiday destination, the Raizales there are now a minority while mainlanders have bought up the island's best beaches, hotels and tour businesses.
Migration has overcrowded San Andrés and locals complain that millions of dollars in tourist taxes never seem to make their way to the now 100,000-plus population. The island has frequent water and energy outages and is increasingly unsafe.
"San Andrés is almost gone and our traditional culture there has been lost," says Kirby Danilo Saams, a musician in Providence.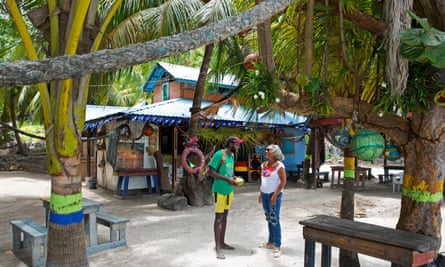 Fearing the same fate, locals on Providence have campaigned robustly to slow migration and keep tourism under control.
Islanders scuppered plans to construct a major military base on the island in the 1990s and have shot down a series of resort proposals.
San Andrés's traffic-congested roads and gigantic duty frees have made Providence's people more aware of the need to conserve their heritage.
"The hurricane made us all more reflective of what we had and some of us realised we wanted to plant a seed so that our culture keeps growing in the next generation," says local guide Karen Livingston, who is wearing a traditional long pink dress with elaborate white frills.
Despite efforts to preserve the island's heritage, change is coming regardless, due to growing connections with life outside the Caribbean.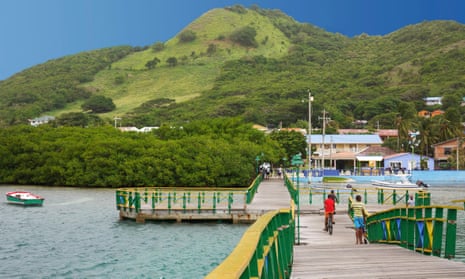 Today parents are more likely to send their children to study in mainland Colombian cities than on Caribbean islands such as Grenada, and locals are increasingly reliant on imported food and products.
More islanders are marrying Colombian mainlanders, English is declining in favour of Spanish and attitudes are shifting.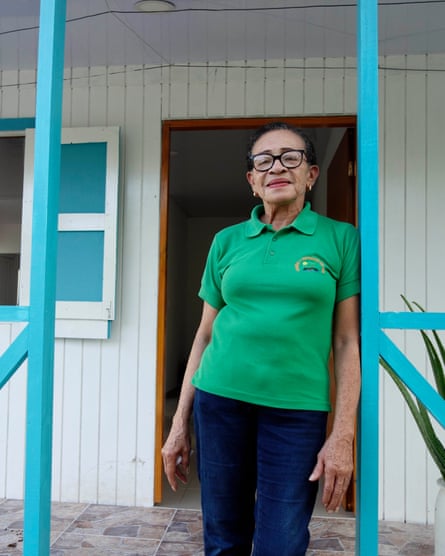 "People used to share everything, changing their fish for yuca and sharing food with another. Now everyone just thinks for themselves", says tour guide Bernardo.
The island's traditional Caribbean architecture is also being lost. The Colombian government was quick to dispatch mainlanders to rebuild providence after Hurricane Iota but according to Josefina Huffington Archbold, president of Old Providence's Civic Oversight, there was little consultation with locals.
Some new houses entirely abandoned the typical style with large porches and many were not constructed in wood.
Huffington says the Raizales must keep fighting to protect the identity of the island and keep tourism at sustainable levels.
Currently Providence is two flights away from Colombia and the island's inaccessibility keeps visitor numbers down but every now and again there are murmurs of the possibility of direct flights.
"I keep telling people what my mother used to say," Bernardo says. "You have to be like a grasshopper and think before you leap."