Water-related violence surged to an all-time high in 2022 – driven in large part by Russia's war in Ukraine and Israeli attacks against Palestinian water resources in the West Bank.
At least 228 water conflicts were documented in 2022 – an 87% rise since 2021, according to research by the Pacific Institute shared exclusively with the Guardian.
The incidents include Israeli settlers sabotaging wells in the occupied West Bank, state violence against protesters demanding safe drinking water in Iran, nomadic pastoralists and farmers fighting over scarce supplies in sub-Saharan Africa, and Russia bombarding dams and water treatment plants in Ukraine.
Overall, violence related to water access has been rising steadily since 2000 as the climate crisis and growing scarcity exacerbate old conflicts over land, ideology and religion, economics and sovereignty – and new ones erupt, according to the Water Conflict Chronology.
In some of the most catastrophic incidents so far this year, Israel has used water as a weapon by targeting critical infrastructure and cutting off supplies to more than 2 million people in the besieged Gaza Strip – as did Russia when it destroyed the Kakhovka dam in southern Ukraine.
The UN recognizes access to safe, acceptable, affordable drinking water as a fundamental human right, yet more than 2 billion people, about 25% of the world's population, still lack access. Cutting off or denying people access to safe water violates international humanitarian law and the Geneva conventions, constituting a war crime, according to UN experts.
The Pacific Institute's tracker is the most comprehensive open-source database of water-related violence in the world, dating back over 4,500 years and containing more than 1,630 entries identified from news reports, eyewitness accounts and conflict databases.
It details events in which a water source or system – a dam, well, treatment plant, canal, pipeline, and so on – has been a trigger, weapon or casualty of violence, with the majority of data available covering conflicts since 2000.
The 2023 data is incomplete but on track to be another record or near record high.
And while water-related violence is not confined to a particular place or time, incidents are rising and disproportionately concentrated in the Middle East, southern Asia and Africa as competition intensifies amid rising demand and dwindling supplies exacerbated by the climate crisis.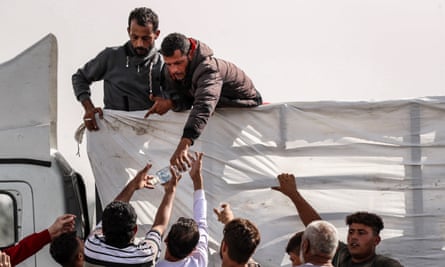 "Attacks on civilian water systems, or the use of water as a weapon against civilians, is absolutely forbidden by international law. War is always horrible, but even in war there are rules of conduct and the international community must call out and punish violations of international humanitarian laws," said Peter Gleick, co-founder of the Pacific Institute, a water thinktank which created the conflict tracker in 1985.
He added: "2023 is on track to be as bad as 2022 unless efforts to address the consequences of drought and climate change expand and/or the conflicts in Ukraine and the Middle East diminish."
---
The first known water conflict took place in 2500BC in the Sumerian Gu'edena – or "edge of paradise" region in the ancient Middle East, a conflict over water and irrigated lands that lasted a century. The second was over the Tigris River in Babylon between 1720 and 1684BC.
The most recent data includes 56 incidents in Ukraine since Russia's invasion in February 2022 until mid-2023.
In April 2022, 106 towns in the Kherson region of Ukraine were left without water services after Russia targeted energy and water systems. In January 2023, 1 million Ukrainians – the entire population of Odesa – were temporarily left without water, again after Russian forces attacked energy and water systems.
In June this year, the explosion that destroyed the Kakhovka dam on the Dnipro River left at least 50 dead and submerged multiple villages and agricultural fields, as well as cutting off the water supply for cities, power plants and irrigation systems. This type of attack qualifies the event as a weapon as well as a casualty on the tracker.
Many of Ukraine's water facilities – used for drinking water, irrigation, industry and power plants – were concentrated in the east and south of the country, where the heaviest fighting has taken place.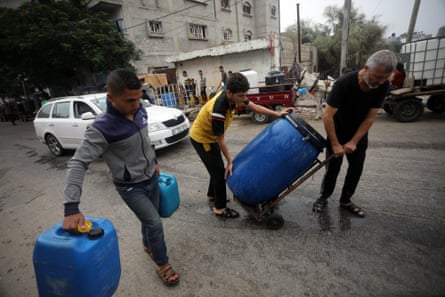 Russia is responsible for most of the destruction but Ukraine has on occasion weaponized water. For instance, in May 2022, the Ukrainian armed forces destroyed the gates of a dam to slow the Russian advance toward Svitlodarsk in Donetsk.
Targeting water facilities in wartime is not new.
Last century dams were intentionally attacked during the Spanish civil war and during the second world war. For instance, the US targeted water supplies while bombing the Japanese-occupied island of Saipan in June 1944, resulting in severe shortages.
Amid ongoing fighting in Ukraine, scientists have been unable to fully assess or mitigate the damage but shortages have been reported by some communities and farmers in the south. In addition, the flooding caused by bombing and other infrastructure has probably dislodged toxins including heavy metals, oil and plastics – and landmines – downstream and possibly across international borders, according to Oleksandra Shumilova, a researcher at the Leibniz Institute of Freshwater Ecology and Inland Fisheries.
"The long-term consequences on the quality and quantity of water will be significant for Ukraine and globally. The big question is how can Ukraine's water sources and ecosystems recover, and how long will it take?" said Shumilova. "Ukraine has more than a thousand reservoirs and if the war continues, they are all at risk."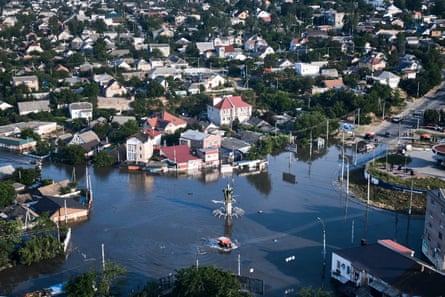 ---
Middle East
Violence over water is rising in the Middle East, with attacks in Yemen, Iraq and Syria contributing to 74 incidents in 2022 – a third of the global total.
Tensions between Iran and Afghanistan over the Helmand River are mounting, as both countries experience growing water insecurity. By 2050 every country in the region is projected to experience high water stress as populations grow and climate impacts intensify.
But Palestinians are arguably suffering the most from water violence in the region, as Israel uses violence to exert control over limited supplies in the occupied territories.
The surprise cross-border attack by Hamas on 7 October left 1,200 Israelis dead and more than 200 taken hostage. In response, relentless retaliatory attacks by Israel on Gaza have damaged or destroyed at least six water wells, three water pumping stations, one water reservoir and one desalination plant serving over 1.1 million Palestinians. UN agencies have reported dire, potentially fatal water shortages, with Palestinians forced to drink, cook and bathe in contaminated water or seawater.
Israel has also cut off electricity and fuel supplies needed to operate Gaza's other desalination plants, and water treatment and sewage facilities.
Much of the recent water-related violence in Gaza has not yet been added to the conflict chronology.
But long before the siege on Gaza, Israel had been systematically targeting Palestinian irrigation and water supply systems in the West Bank as part of its plans to expand settlements and control the region's very limited water supplies. Israel attacked Palestinian water sources at least 66 times between January 2022 and mid-2023 – more water-related violence than was inflicted on Ukraine during the same time period.
For instance, Israeli settlers and soldiers carried out a series of attacks against water systems in June 2022 which included filling a well with stones near Yabad, close to Jenin, and demolishing a pond used to water grapes in Bir Zayt.
In October last year, Israeli military forces destroyed a water pump that supplied water to several villages including Burin and Madama, cutting supplies to more than 20,000 Palestinians.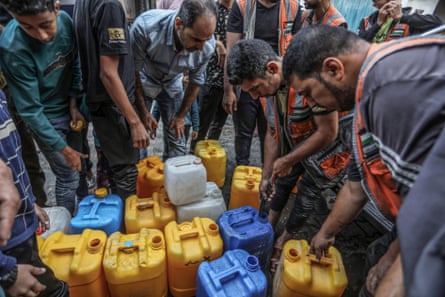 Earlier this year in July, Israeli occupying forces raided and looted Palestinian farmers in Hebron in the West Bank before pouring concrete into water wells to prevent the landowners from irrigating their farmland.
The frequent attacks go hand in hand with land grabs, and are carried out with almost total impunity.
Gleick, of the Pacific Institute, said: "Even before the current massive escalation of violence between Israel and Palestine, there has been a major increase in attacks by Israeli settlers or the military on Palestinian water wells, irrigation systems, pipelines and springs in the West Bank, reflecting efforts by Israel to expand settlements and control the West Bank's very limited water sources."
The chronology includes a small number of incidents from earlier years when Israeli water resources were targeted by residents in occupied territories and militant groups from Lebanon and Palestine.
---
Climate-driven water violence
From unpredictable rainfall patterns to floods, drought, rising sea levels and shrinking ice sheets – water is at the centre of the climate emergency and the situation will almost certainly get worse as the world continues to burn fossil fuels, according to the UN.
Climate-driven water scarcity is increasingly influencing the risk of major conflict, according to Gleick. For instance there is strong evidence that the Syrian civil war was in part triggered by severe drought that was intensified by global heating, affecting food security and the economy.
Globally, civil unrest is also on the rise as people from Mexico and Peru to India, Madagascar and South Africa take to the streets to demand clean water and sanitation – which is often lacking due to a mix of crumbling infrastructure, industrial pollution, poor governance and, increasingly, climate shocks such as drought and flooding.
In September 2022, police beat and arrested 25 people during protests over severe water shortages in Hamadan, Iran, where poor management, drought and corruption-ridden infrastructure projects are contributing to an existential decline in supplies. In July, a 17-year-old was killed after police in South Africa fired shots to disperse a roadblock during a protest over drinking water shortages in a small town east of Johannesburg.
"We're seeing the effects of years of poor water resources management – due to politics, lack of financial resources, debt, corruption, conflict or other priorities – together with the effects of climate change, and this is leading to more intense competition over water resources," said Liz Saccoccia, a water security associate at the World Resources Institute.
"Though there's research that water can serve as a pathway to peace, we've seen horrible examples of the opposite this year.'