Madurai: The damage sustained by drinking water pipelines in Madurai north and east zones while laying new pipelines for AMRUT project has left residents of these zones with poor water supply in the last 15 days.
Corporation officials said that a few main pipelines got damaged accidentally near Kulamangalam main road during work on the AMRUT scheme, and subsequently water supply from Arasaradi pumping station to Madurai north and east zones got affected. A week ago, officials found during inspection of the broken pipelines that the existing ones are old and a few main pipelines have to be replaced. The corporation has been supplying water with the help of tanker lorries in the affected areas including Bibikulam, K Pudur, DRO colony, Tagore Nagar, P&T Nagar, Mullai Nagar and Gandhipuram.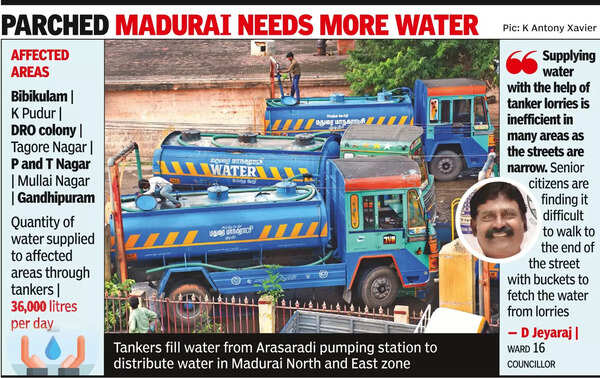 On Tuesday, residents of Bibikulam carried out a protest as water supply through tankers was erratic. A senior corporation official said a WhatsApp group was formed with residents' associations in the affected areas and water supply was being monitored. On Wednesday, the damaged pipelines were laid and water was supplied to some parts, the official said. Residents' association members said that even though water supply was restored, the pressure of water was so low that it was not sufficient for domestic needs.
S Rajamanickam, a resident of DRO colony, said the low water pressure has led to arguments among residents in colony areas where a common pipeline is allocated to a group of households. "In the last 10 days we were left without water supply, now we are forced to survive on a meagre amount of water supply," said Rajamanickam. Responding to this, a senior corporation official said water pressure is low because water is not lifted to the overhead tank at Tagore Nagar and Bibikulam. "The water will be lifted to the tanks in a few days and the supply in the area will improve gradually," said the official.
The low water pressure has rendered some parts of Madurai east without water supply. Zonal chairperson S Vasuki said, "Residents of ward 12, 16 and 5 are most affected as they are at the end of the drinking water supply line." Corporation officials said more private water tanker lorries have been hired to supply water to the east zone. About 36,000 litres of water is being supplied daily to the affected areas through private tankers, the official said.