Key events
Erum Salam
Outrage continues to grow over a public comment made by a Florida state Republican lawmaker calling for all Palestinians to die.
In the speech during a debate in the state legislature about calling for a ceasefire in Israel's invasion of Gaza, the Democratic Florida state representative Angie Nixon said: "We are at 10,000 dead Palestinians. How many will be enough?"
"All of them," Michelle Salzman called in reply.
Nixon acknowledged the interruption and said: "One of my colleagues just said, 'All of them.' Wow."
The Florida state house later voted 104-2 to reject Nixon's resolution.
The Florida chapter of the Council on American-Islamic Relations (Cair-Florida), the US's largest Muslim civil rights and advocacy organization, said in a statement that Salzman's remarks were a "chilling call for genocide" and a "direct result of decades of dehumanization of the Palestinian people by advocates of Israeli apartheid and their eager enablers in government and the media".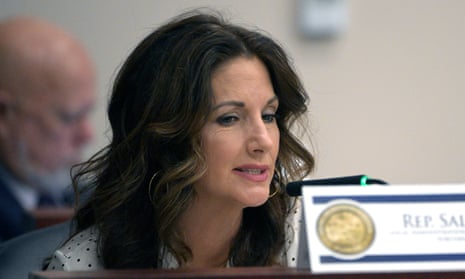 The news comes on the heels of the censure of the Michigan congresswoman Rashida Tlaib, the only Palestinian American in the US Congress, after Tlaib echoed a popular rallying cry for Palestine that some have called antisemitic but others say is a call for Palestinian civil rights.
The censure resolution, which was supported by 22 Democrats, punishes Tlaib for allegedly "calling for the destruction of the state of Israel" and "promoting false narratives" about the 7 October attack by Hamas on Israel.
The World Health Organization (WHO) chief Tedros Adhanom Ghebreyesus, speaking to the UN security council on Friday, said he understood the suffering and horror being experienced in Gaza today, having lived through war as a child and a parent himself. He said:
I understand what the children of Gaza must be going through because as a child, I went through the same.
He recalled the sounds of tracer bullets, gunfire and "the smell and images" of war. "I know what war means," he said.
The WHO director general said the best way to support the organisation is to provide what health workers need to save lives.
He said about 63 tonnes of aid had been sent to Gaza, but that unfettered access is needed to reach civilians.
WHO chief says a child is killed every 10 minutes in Gaza
The head of the World Health Organization (WHO) has described the situation on the ground in Gaza, from hospitals conducting operations without anaesthetics to the fact that a child is killed every 10 minutes.
"Nowhere and no one is safe," Tedros Adhanom Ghebreyesus told the UN security council on Friday.
Gaza's health system "is on its knees", he said. He said there have been more than 250 attacks on health centres in Gaza and 25 in Israel since the start of the conflict last month. More than 100 UN colleagues have been killed.
Half of the 36 hospitals in Gaza and two-thirds of its primary healthcare centers were not functioning, he said. Those that were operating were way beyond their capacities, he said.
Islamophobia and antisemitism are seeing sharp increases across the US after war between Israel and Hamas erupted last month.
According to a new report by the Council on American-Islamic Relations (Cair), the Muslim civil rights and advocacy organization received a total of 1,283 requests for help and reports of bias between 7 October and 4 November.
Cair, which has called the spike "unprecedented", revealed that the recent increase in Islamophobia and anti-Arab sentiment across the US mark a 216% increase over the previous year. In an average 29-day period in 2022, Cair received only 406 complaints.
Cair's research and advocacy director, Corey Saylor, said that "American Muslims are facing the largest wave of Islamophobic bias that we have documented" since Donald Trump, then a presidential candidate, called for a Muslim travel ban in December 2015.
Meanwhile, Jewish communities say they are also facing record-high levels of antisemitism after Israel launched war on Hamas after Hamas's 7 October attack.
On 25 October, the Anti-Defamation League reported a nearly 400% increase in antisemitic incidents reported year over year. From 7 to 23 October, the ADL recorded a total of 312 antisemitic incidents, 190 of which were directly linked to the violence in Israel and Gaza. During the same time last year, the ADL received preliminary reports of 64 incidents, including four that were Israel-related, the advocacy group reported.
According to monthly crime statistics released this week by the New York police department (NYPD) and reviewed by the Hill, the city saw a 214% rise in reported hate crimes against Jews in October.
Macron urges Israel to 'stop bombing babies and women in Gaza'
France's president, Emmanuel Macron, has said there is "no justification" for the Israeli bombing of babies, women and elderly people in Gaza.
Macron, speaking to the BBC a day after a humanitarian aid conference in Paris about the war, called for a ceasefire in Gaza, saying it would benefit Israel.
He said the "clear conclusion" of all governments and agencies at the summit on Thursday was that "there is no other solution than first a humanitarian pause, going to a ceasefire, which will allow [us] to protect … all civilians having nothing to do with terrorists". He added:
De facto – today, civilians are bombed – de facto. These babies, these ladies, these old people are bombed and killed. So there is no reason for that and no legitimacy. So we do urge Israel to stop.
The French leader said that France "clearly condemns" the Hamas attacks on Israel on 7 October that killed about 1,200 people and took 240 hostage.
"We do share [Israel's] pain," he said, but he added there was "no justification" for the ongoing bombing of civilians in Gaza.
It's extremely important for all of us because of our principles, because we are democracies. It's important for the mid-to-long run as well for the security of Israel itself, to recognise that all lives matter.
Asked if he wanted other leaders – including in the US and the UK – to join his calls for a ceasefire, he replied:
I hope they will.
Here are some of the latest images we have received over the newswires from Gaza, Israel and the occupied West Bank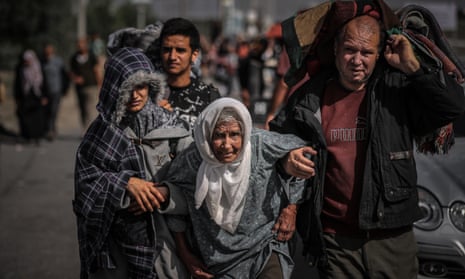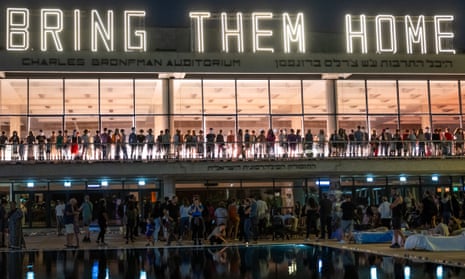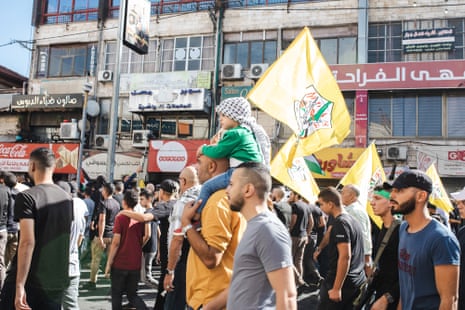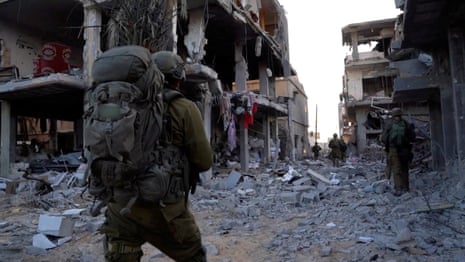 'Water is scarce and fear is pervasive' in Gaza: UN rights chief repeats urgent call for ceasefire
The UN's human rights chief, Volker Türk, has reiterated increasingly urgent calls for a humanitarian ceasefire to allow lifesaving relief to reach Gaza.
Türk, speaking to journalists in Amman on Friday, also called for the release of all hostages taken from israel and a "sustainable" end to the "nightmarish" situation for those trapped in Gaza.
"Water is scarce and fear is pervasive" in Gaza, he said as he wrapped up a five-day visit to the Middle East which included Rafah, Egypt.
He spoke about his visit to el-Arish hospital, where he saw young children who had been seriously injured in Gaza. "These were the 'lucky' children who suffered terribly but are still alive and receiving proper medical treatment," he said.
The UN rights chief reiterated that while civilians should be protected under international law "wherever they are", right now "nowhere in Gaza is safe". He added:
Stop the violence, guarantee the safety of humanitarian workers, provide safe access to ensure that humanitarian assistance can be delivered to all those in need, make sure people have enough to eat, clean water to drink and medical care and shelter, free the hostages, serve accountability and bring to justice in line with international humanitarian law the perpetrators of serious violations.
The head of an Israeli media advocacy group that suggested four of the world's biggest news organisations had prior knowledge of Hamas's deadly assault on Israel on 7 October have accepted their vigorous denials as "adequate".
The Associated Press, Reuters, the New York Times and CNN issued robust statements in response to the suggestion that they were tipped off about the 7 October attacks.
The suggestion appeared in an article by HonestReporting, which describes itself as an organisation devoted to fighting media disinformation about Israel and Zionism. It was taken up by two senior Israeli politicians, who said any journalists with prior knowledge of the assault should be treated as terrorists.
Gil Hoffman, HonestReporting's executive director, later admitted there was no evidence to back up the article's suggestions, but said "they were legitimate questions to be asked".
Speaking to Reuters on Friday, Hoffman said he was "so relieved" when the four media organisations said they did not have prior knowledge.
We raised questions, we didn't give answers. I still very much think that the questions were legitimate and the answers were adequate from the media organisations themselves.
He also distanced himself from Israeli government accusations that were sparked by its article, adding:
There are those who took our story and pretended that they knew the answers – the Israeli government, cabinet ministers, various Twitter personalities – we didn't claim to know.
Summary of the day so far
It's nearly 11pm in Gaza City and Tel Aviv. Here's a recap of the latest developments:
Thousands of Palestinians continued to flee south from northern Gaza on Friday a day after the White House announced that Israel would begin to implement four-hour "humanitarian pauses" in parts of the area to allow people to leave. The IDF spokesperson Daniel Hagari said on Friday that more than 100,000 residents have fled south from Gaza City during the last two days.

On the ground, conditions continue to deteriorate during the sustained Israeli onslaught with heavy gunfire, explosions and the buzz of Israeli military drones heard as night fell over Gaza City on Friday. Despite the US announcement, there have been no immediate reports of a lull in fighting in northern Gaza. The Israeli military has said there will be "tactical, local pauses for humanitarian aid for Gazan civilians" but "no ceasefire".

The UN's human rights chief, Volker Türk, has called for an investigation into what he described as Israel's "indiscriminate" bombardment and shelling in densely populated areas in the Gaza Strip. "The extensive Israeli bombardment of Gaza, including the use of high-impact explosive weapons in densely populated areas … is clearly having a devastating humanitarian and human rights impact," Türk told reporters in Jordan.

The US secretary of state, Antony Blinken, said "far too many Palestinians have been killed" in the war. While Blinken said the US "appreciates" Israel's steps to minimise civilian casualties, he said it was not enough. He said the US has proposed additional ideas to the Israelis, including longer "humanitarian pauses" and expanding the amount of assistance getting into Gaza.

Each recorded fatal Israeli airstrike on Gaza since 7 October has caused an average of 10.1 civilian deaths, a monitoring group has said, amid warnings that reported civilian casualty figures are likely to be an underestimate. The fatality average is far higher than in the three previous Israeli air campaigns in Gaza.

Crowds of people marched through the centre of Jenin in the occupied West Bank for the funerals of Palestinians killed during an IDF raid. As the Israeli offensive in Gaza continues, violence in the occupied West Bank is escalating. Nineteen Palestinians were killed across the territory on Thursday as clashes took place with the IDF.
Israel adjusts death toll from 7 October attacks to 1,200
Israel has revised downwards the death toll from last month's Hamas attacks in the south of the country from 1,400 to about 1,200, a foreign ministry spokesman said on Friday.
"This is the updated number," the spokesperson, Lior Haiat, told AFP.
"It is due to the fact that there were lot of corpses that were not identified and now we think those belong to terrorists … not Israeli casualties."
Israel previously said Hamas fighters who poured across the heavily militarized border on 7 October killed 1,400 people, mostly civilians, the news agency said. Friday's statement now says that "about 1,200 people" were murdered by Hamas.