Key events
Here are some of the latest images coming to us from Gaza and Tel Aviv: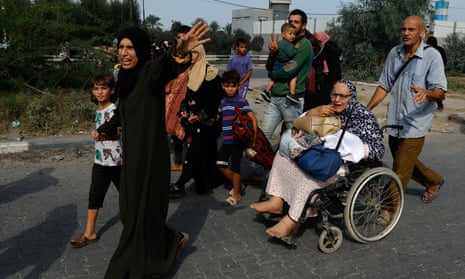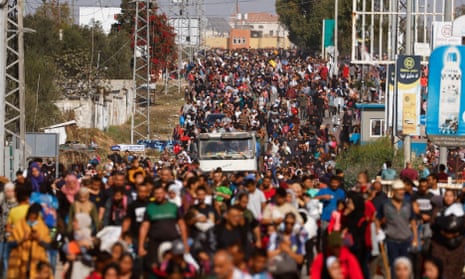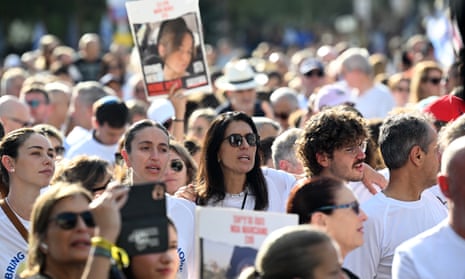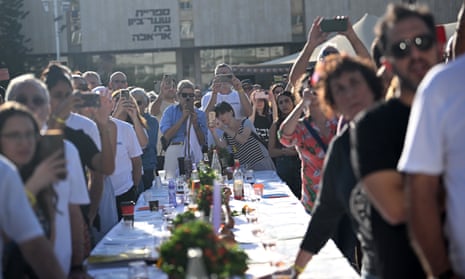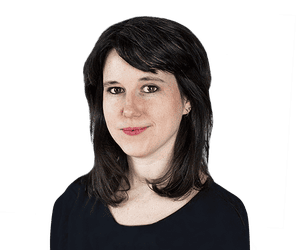 Bethan McKernan
Women's rights groups in Israel have warned of significant failings in preserving forensic evidence that could have shone a light on the scale of sexual violence committed against women and girls in last month's Hamas attacks.
Several incidents of sexual assault and rape from 7 October have been documented by Hamas body camera footage, verified material uploaded to social media, and photographs and videos taken by civilians and first responders, according to several people involved in analysing the footage.
A major worry for Israeli women's rights groups is that it appears that very little, if any, investigative work was done to document sexual violence before bodies were returned to their families for funerals, meaning that the gender-based nature of some of the violence has largely gone under the radar in Israeli and international media.
Israeli strike on Gaza's largest hospital kills 13, says Hamas government in Gaza
An Israeli strike on the Al-Shifa compound has killed 13 people, the Hamas government in the Gaza Strip has said, according to Agence France-Presse (AFP).
"Thirteen martyrs and dozens wounded in an Israeli strike on al-Shifa compound today" in central Gaza City, a government statement said. While journalists have not yet been able to verify the claim, an AFP journalist reported seeing at least seven covered bodies outside the hospital.
The Israeli military did not offer an immediate comment. Israel had reported heavy fighting on Thursday near the hospital, saying it had killed dozens of militants and destroyed tunnels that are key to Hamas's capacity to fight.
The Israeli army has repeatedly accused Hamas of using hospitals, particularly al-Shifa, to coordinate their attacks against the army and also as hideouts for its commanders.
Hamas authorities and doctors deny the accusations.
Mohammed Zaqout, director-general of Gaza hospitals, said they were facing a "catastrophic situation" without electricity, water or food.
"We are unable to provide services to the wounded and the hospitals are continuously bombed by Israel," Zaqout said.
Lebanon's Iran-backed Hezbollah has claimed that Israeli fire killed seven of its fighters, though it did not specify where or when they died, news agency Agence France-Presse reports.
In a statement, the group named the seven fighters and said they were "martyred on the road to Jerusalem", the phrase Hezbollah uses to mourn members – now numbering 68 – killed since border clashes with Israel began last month.
Earlier on Friday, Israel's military said it struck an organisation in Syria, which it did not name, saying the group was behind a drone crash into a school in southern Israel a day earlier.
The border area between the two countries has seen daily exchanges of fire, in particular between Iran-backed group Hezbollah and Israel, since 7 October.
Reuters has more on the reports of Israeli strikes close to hospitals in Gaza following a press conference with WHO spokesperson Margaret Harris.
Earlier we reported that Harris had told reporters that the Al Shifa hospital in Gaza City, which ranks as the biggest hospital in the Gaza Strip, was "coming under bombardment."
She also said there was "significant bombardment" on Rantissi hospital, the only hospital providing paediatric services in northern Gaza.
The Rantissi hospital has children on life support and receiving dialysis, Harris added, saying it would be impossible to evacuate them safely. She did not attribute blame.
Twenty of the 36 hospitals in the Gaza Strip are now out of action entirely, she said. Earlier this week the WHO said this tally included the only psychiatric hospital in the Gaza Strip.
It's just past 2pm in Gaza City and Tel Aviv, here are the latest developments:
Palestinian officials said Israel launched airstrikes on or near at least three hospitals on Friday, further stressing the Palestinian territory's precarious health system as it struggles to cope with thousands of people wounded or displaced in Israel's war against Hamas militants. Israel has not responded to the claims.

The US secretary of state, Antony Blinken, says 'far too many' Palestinians have died. While Blinken said the US "appreciates" Israel's steps to minimise civilian casualties, he said it was not enough. He said the US has proposed additional ideas to the Israelis, including longer "humanitarian pauses" and expanding the amount of assistance getting into Gaza.

Hamas fires rockets deep into Israel, setting off sirens in Tel Aviv. Medics reported two women in Tel Aviv suffered shrapnel wounds from the salvo.

Benjamin Netanyahu has said Israel does not seek to conquer, occupy or govern Gaza after its war against Hamas, but a "credible force" would be needed to enter the Palestinian territory if necessary to prevent the emergence of militant threats.

Earlier, the Guardian reported that Benjamin Netanyahu rejected a deal for a five-day ceasefire with Palestinian militant groups in Gaza in return for the release of some of the hostages held in the territory early in the war, according to sources familiar with the negotiations.

Israeli officials say that a Gaza evacuation corridor opens for a sixth day. Cogat, the Israeli military civil body responsible for government policy in the occupied Palestinian territories, said the corridor will remain open for seven hours.

Food shortages affecting every single person in Gaza, a spokesperson for the UN's World Food Programme has said. "We can safely say that 100% are food insecure at this moment," said Kyung-nan Park, the director of emergencies for the UN agency.

The IDF has confirmed it struck what it said was a group in Syria that was responsible for a drone that hit a school in the southern Israeli city of Eilat on Thursday. The military did not say what organisation in Syria had launched the drone. It said: "The IDF holds the Syrian regime fully responsible for every terror activity emanating from its territory."

The White House announced earlier that Israel would begin to implement four-hour "humanitarian pauses" in parts of northern Gaza to allow people to leave. But there are yet to be clear signs of this taking place. The Israeli military has said it has not agreed to a ceasefire but that it will continue to allow "tactical, local pauses" to let in humanitarian aid into Gaza. Any plans for short-term pauses in the fighting in Gaza must be carried out in coordination with the UN and after agreement by all sides to be "truly effective", a UN spokesperson Stéphane Dujarric has said.

In Israel, healthcare professionals and the families of hostages and their supporters held a demonstration outside the International Committee of the Red Cros (ICRC) headquarters in Tel Aviv on 9 November. They were calling on the organisation to demand access to visit and treat the hostages still being held inside Gaza.

A UN report paints a stark picture of the Palestinian economy after a month of war and Israel's near-total siege of Gaza. The gross domestic product shrank 4% in the West Bank and Gaza in the war's first month, sending more than 400,000 people into poverty – an economic impact unseen in the conflicts in Syria and Ukraine, or any previous Israel-Hamas war, the UN said.
Hamas fires rockets deep into Israel, setting off sirens in Tel Aviv
Sirens have sounded in Tel Aviv and surrounding areas as Hamas said it fired rockets deep into Israel, reports Reuters.
Medics reported two women in Tel Aviv suffered shrapnel wounds from the salvo, which followed a relative lull in rocket fire as Israeli forces press a ground offensive in Gaza in the fifth week of the war.
The military said some 9,500 missiles, rockets and drones had been fired at Israel from Gaza and other fronts since 7 October. It added that 2,000 of them had been shot down by air defences, while some 12% of Gaza rockets, which are mostly locally made, had fallen short within Palestinian territory.
"With the entry of (Israeli) forces on the ground, there has a significant drop-off in the number of launches," it said.
The figures given by the military have not been verified by the Guardian.
Israel's emergency medical responders, Magen David Adom, said on social media that its teams were en route to several strike sites.
The Israeli military has said it has arrested 41 Palestinians during a large-scale raid in the occupied West Bank, according to the Associated Press.
The Israeli military said 14 of those arrested were militants. It said it also destroyed the homes of two militants who it accused of carrying out an August attack that killed an Israeli woman and seriously wounded an Israeli man. At the time, an offshoot of the secular nationalist Fatah party, the al-Aqsa Martyrs' Brigade, claimed responsibility for the attack.
Israeli forces also said they had "sealed" a shop in Hebron which they said was used to print "incendiary material for Hamas" and raided three West Bank refugee camps where they said they had confiscated weapons.
The Israeli military says it has arrested 1,540 Palestinians in the West Bank since the start of the war, identifying 930 of them as affiliated with Hamas. The Palestinian Prisoner's Club, which represents Palestinian detainees, puts the numbers much higher, at 90 detained Thursday night and 2,400 arrested in the West Bank since the start of the war.
A safe space for Gaza's children – video
The Guardian has a dispatch from the city of Khan Yunis in southern Gaza, where volunteers are offering children a brief escape from the conflict by playing games and fun activities with them.
'The kids come back really happy, they revive their playful spirit,' says one parent.
While it won't bring back their homes or loved ones, volunteers are hoping that making time for play in a war zone will help these children recover from the trauma of living under siege.
The UN humanitarian office, OCHA, has said that "several hundred thousand people" are still in northern Gaza, beyond the reach of aid supplies.
"We cannot drive to the north at the current point, which is of course deeply frustrating because we know there are several hundred thousand people who remain in the north," said OCHA's spokesperson, Jens Laerke, according to Reuters.
"If there is a hell on earth today, its name is northern Gaza," he added.
He continued:
It is a life of fear by day and darkness at night. And what do you tell your children in such a situation, it's almost unimaginable – that the fire they see in the sky is out to kill them?"